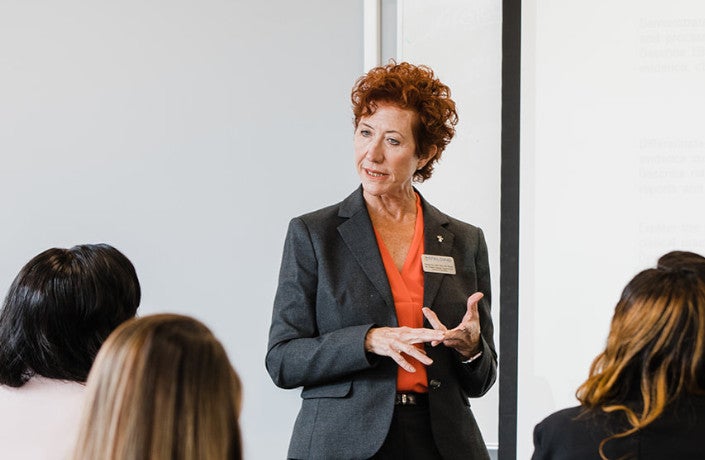 Adapted from from Spalding Ed.D.: Leadership Student Handbook
What makes an effective leader? Successful managers know that a combination of hard and soft skills are necessary for managing teams ethically and effectively. Hard skills are necessary because it's important for a leader to be proficient in their field. Soft skills are equally important for leaders looking to get the best out of themselves and their collaborators. Great leaders possess the technical ability to speak from experience, as well as the following 10 characteristics that help them understand and inspire those around them.
Ethical - Exhibits and promotes honest, civic-minded and justice-oriented reasoning and behavior in all endeavors.
Effective Communicator - Practices and promotes logical reasoning and accurate and effective verbal, written and non-verbal transmission of information and ideas in all circumstances, including in cross-cultural contexts.
Self-Aware - Exhibits the ability to reflect upon, understand and edit one's own presentation and behavior and exhibits the ability to adapt and change as needed.
Scholarly - Demonstrates appreciation and application of knowledge acquisition and exhibits learning agility and continuous academic improvement.
Empathetic - Demonstrates the ability to listen and to assume others' perspectives.
Problem Solver - Demonstrates the abilities to think critically and strategically and to arrive at reasonable conclusions.
Innovator - Demonstrates the abilities to think creatively and to apply new perspectives and methods to shift paradigms.
Approachable-Yet-Influential - Exhibits humility and flexibility while also demonstrating the ability to act decisively.
Self-Confident-Yet-Collaborative - Exhibits self-respect, respect for others, and the ability to work both independently and cooperatively.
Conscientious - Behaves dependably and responsibly in a manner that is steadfast and trustworthy.
How Can I Learn These Characteristics?
As emerging and established organizational and community leaders, Spalding University's Doctorate of Education in Leadership (Ed.D: Leadership) students are expected to cultivate and adopt these characteristics in their interactions with instructors, classmates and guest speakers, as well as with their workplace and other organizational constituents.
Whether you're interested in stepping into a new leadership role, or becoming more effective as a current leader, Spalding University's Ed.D. in Leadership offers a great path to your goal. No GRE is required, and the application process is streamlined for your convenience. Our dedicated enrollment advisors will guide you through the process, answering your questions about admissions requirements, tuition, financial aid, enrollment and technical support.