Spalding University Online Programs
Spalding University online is a home for students of all ages, from all walks of life, to come together to earn an advanced degree to enhance their own lives and the lives of others. When you call Spalding home, you join a mission-driven community of learners.
We invite you to join our diverse community of people who are fundamentally different from one another but have the same goals to learn, grow and carry forth the tradition of serving others with a compassionate spirit. Begin your journey with us by learning more about the online programs we have to offer.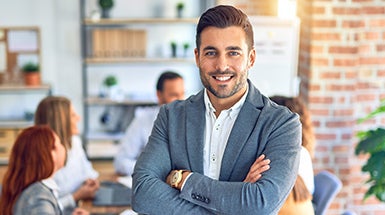 Spalding University's online Doctorate of Education in Leadership (EdD: Leadership) degree is not just for educators. Graduates can leverage this terminal degree for leadership roles in education, business, nonprofit and public offices and organizations. This full-time program is mission-driven and addresses modern-day issues. Courses are delivered one at a time, allowing you to earn your terminal degree in just two years while maintaining your current job responsibilities and personal lifestyle.
With your EdD in Leadership, you will stand out as an exemplary practitioner of ethical organizational leadership, an extraordinary team builder, a systems thinker and a driver of change and innovation in a global economy.

SACSCOC Accredited
Southern Association of Colleges and Schools Commission on Colleges

Nationally Ranked
U.S. News & World Report

Compassionate College
World's first certified university