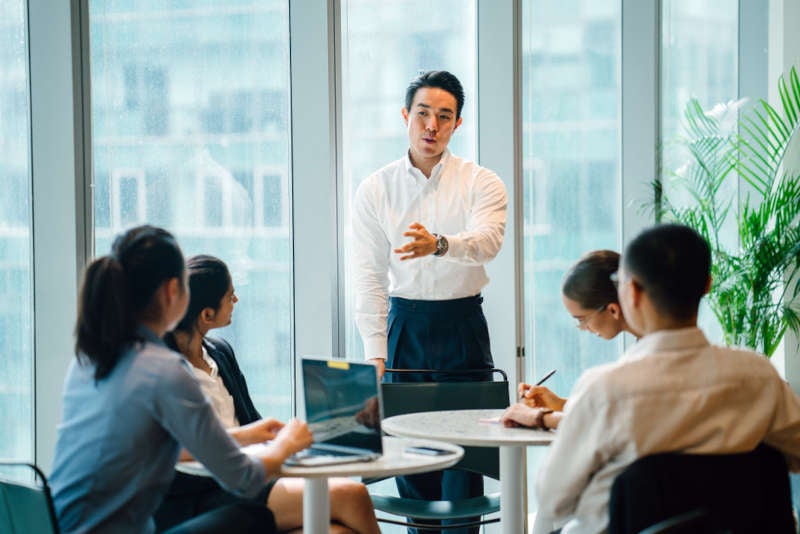 Nonprofits, businesses and academic institutions ensure future success through strong leadership. The Global Leadership Forecast 2023 found only 12% of companies were confident in their "leadership bench" or leadership talent pool. Aspiring executives and change agents can elevate these confidence levels by earning a Doctorate of Education in Leadership (Ed.D).
Ed.D. programs teach leaders how to apply leadership theory and research to achieve meaningful growth in real-world settings. This terminal degree opens new career paths for experienced professionals who are interested in learning and developing innovative approaches to leadership. 
Ph.D. vs. Ed.D. - What's The Difference?
Leaders considering doctoral programs should know the distinction between Ph.D. and Ed.D. programs. A Ph.D. in education leadership focuses on academic research, while an Ed.D. teaches skills needed in organizational settings. Ed.D. graduates can apply academic research and theories in settings beyond the classroom.
Complete The Form to Access My EdD Online Program Guide
Making an Impact with a Doctorate of Education in Leadership
There is more to strong leadership than driving revenues, balancing budgets and supporting the development of innovative product lines. Successful leaders in any industry use strong interpersonal skills and ethical foundations to get the most out of their teams. The Center for Creative Leadership (CLC) identifies 10 characteristics of good leaders that align with the lessons taught in Ed.D. programs:
Integrity
Delegation
Communication
Self-Awareness
Gratitude
Learning Agility
Influence
Empathy
Courage
Respect
Professionals in Ed.D. careers find fulfillment through exercising these characteristics for the greater good. K-12 and higher education leaders find satisfaction in elevating student success through new programs and services. Business leaders can use lessons from their Ed.D. degrees to improve worker conditions, job satisfaction and productivity.
Doctor of Education Career Paths
Ed.D. graduates in education, business, nonprofits and public policy are well-positioned for growth in their current fields or opportunities in new professions. The Ed.D. builds skills that are translatable across public and private sectors. Professionals in the following fields benefit from the insights gained in Ed.D. programs.
Business Leadership
Successful businesses adapt to changing economic conditions and the tactics of their competitors through effective leadership. A company's executive team builds a good workplace culture, innovates processes and works together for long-term success. Ed.D. graduates with business experience can aim for leadership roles including:
Chief Executive Officer (CEO)
Chief Financial Officer (CFO)
Chief Information Officer (CIO)
Chief Operating Officer (COO)
Chief Technology Officer (CTO)
The lessons learned in an Ed.D. program are especially helpful during business transformations. A McKinsey study on business transformations found the most successful change initiatives featured high amounts of staff engagement. Ed.D. courses reinforce the value of team building and sustainable growth in any business.
Business executives come from a wide variety of educational and professional backgrounds. No matter their experiences, successful executives have learned how to apply new ideas and lessons to real-world situations. An Ed.D. is an ideal degree for future corporate leaders interested in practical skills for today's workplace.
Human Resource Leadership
Motivated and talented employees drive success for businesses, nonprofits and other organizations. Human resource managers identify and develop talent pipelines by evolving organizational processes. The checklist of job responsibilities for a human resource leader may include:
Designing creative methods for employee engagement
Developing professional development consistent with organizational goals
Evaluating new technologies for more agile work environments
Identifying opportunities for reskilling and upskilling employees
Managing disciplinary processes and employee mediation
Human resource professionals find fulfillment in connecting new talent to opportunities for career growth. They get to know people from many different backgrounds and encourage welcoming workplace cultures. Their successes are reinforced on a daily basis through positive customer reviews, employee buy-in and organizational progress.
The trademarks of a successful human resource manager include strong ethics, good communication skills and agility. Aspiring leaders in the profession learn how to apply these attributes in office settings during Ed.D. programs. A Doctorate of Education in Leadership also encourages innovative thinking about human resources challenges.
Nonprofit Leadership
Nonprofit organizations enrich and improve lives throughout the world. Religious organizations, social service providers and educational institutes often fill in gaps left by public services. Good leadership is essential for the future of nonprofits with increased demand for services and operational costs.
Nonprofit leaders identify new fundraising, community engagement and partnership opportunities to serve their clients. They also work with frontline workers and volunteers on the successful execution of the organization's programs. This balancing act between daily operations and long-term goals is possible through skilled leadership.
There isn't a single path to nonprofit leadership roles, making the Ed.D. attractive to aspiring managers and executives. Ed.D. programs prepare future leaders for mindful decision-making within the contexts of historical injustices and inequalities. This mindset improves relationships in diverse communities and staff satisfaction with their career choices.
Public Leadership
Local, state and federal agencies are guided by budgets and regulations in their service to the public. There is still room within these confines for innovation in the public sector. Creative leaders find ways to make the most out of available talent and resources for the public good.
A 2022 survey of public sector employees found that personal job satisfaction (88%) and service to the community (70%) were factors in their career choices. Department heads and public leaders also find satisfaction in leaving legacies with their work. Public sector successes are witnessed in daily life from improved roads to better treatment for military veterans.
A strong commitment to public service and an Ed.D. can open fulfilling career paths. Ed.D. programs promote ethical and data-driven decisions through case studies and research projects. The ongoing demand for effective leadership from city managers to public policy consultants makes the Doctorate of Education in Leadership a valuable asset.
Educational Leadership
The National Center for Education Statistics (NCES) identified 128,961 elementary and secondary schools in the United States in 2020. Challenges common to these schools include uncertain funding, teacher recruitment, and student safety. Principals and school superintendents learn how to navigate these challenges in Ed.D. programs.
A master's degree in education leadership plus teaching experience are the entry points into K-12 leadership positions. An Ed.D. is a good investment for education administrators as employers will increase their degree expectations in the future. Ed.D. graduates get ahead of the curve with only 11% of K-12 leaders holding doctorates.
Universities of all sizes also require strong departmental leadership to ensure student and faculty success. Department leaders in higher education balance daily operational needs with long-term planning. There is an ongoing need for leaders with Ed.D. degrees in areas including:
Academic Departments
Admissions
Business Office
Career and Counseling Center
Registrar
Student Affairs
Departmental staff members who complete Ed.D. programs bring innovative ideas into their current roles. They anticipate doctoral requirements for future roles like chief academic officer and academic dean. Ed.D. graduates find their skills fit well in smaller private universities and large public universities.
Training for Ed.D. Careers at Spalding University
Spalding University's Online Ed.D. prepares innovators and leaders with an interdisciplinary curriculum. Students complete one eight-week course at a time with degree requirements completed in two years of full-time study. Degree candidates from different industries and regions collaborate during courses including:
Systems Theory and Leadership
Global Leadership in Local and Transnational Contexts
Ethical Leadership
Identifying and Analyzing Organizational Issues
Online Ed.D. candidates demonstrate their research skills and leadership acumen during the program's capstone project. This project requires extensive research, a presentation to a capstone committee and submission to a peer-reviewed journal. Program graduates leave Spalding University with publication-worthy research as well as a wealth of new connections.
Spalding University's commitment to service and regional reputation add value to its Online Ed.D. degree. The university was the first academic participant in the Charter of Compassion and infuses these values throughout its programs. Accreditation by the Southern Association of Colleges & Schools Commission on Colleges (SACSCOC) and a high regional ranking by U.S. News & World Report confirm the school's commitment to excellence.
Spalding supports you wherever you are in your leadership journey. Connect with an enrollment advisor today to get started.