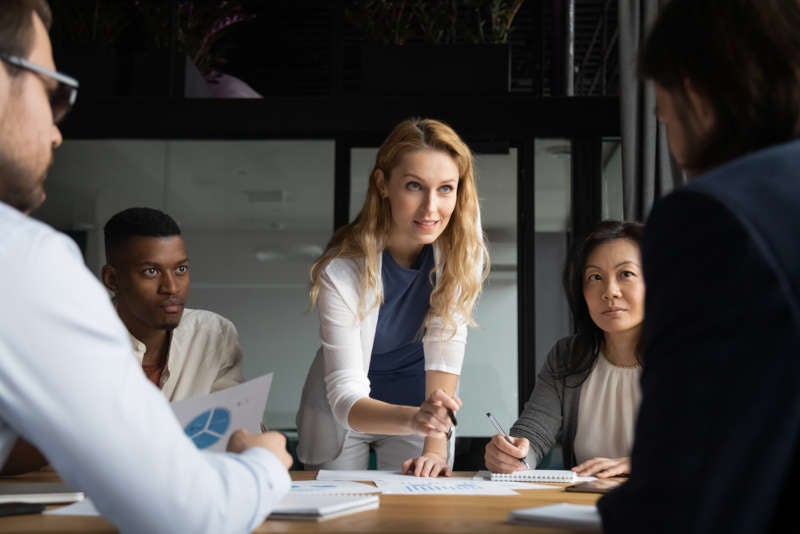 No two leaders are built the same. Personality traits, career histories, and organizational culture shape how a leader sets goals, communicates with employees, and pursues success. Not only that, but leaders can inhabit different types of leadership styles based on the situations they find themselves in and the teams they are managing. 
For a leader to act in the best interest of their employees, organizations, and customers, the leader must understand that, typically, various leadership styles are not good or bad on their own. Instead of determining an all-time winner in the transactional vs. transformational leadership debate, it's more beneficial to consider which leadership techniques to apply in each situation to produce the most favorable outcomes. 
The Effectiveness of Strong Leadership
Most people would say that strong leadership matters when it comes to an organization succeeding or failing, and there are numbers to back this up. 
For example, Gartner, a Fortune 500 company that has received the Fortune award for one of the World's Most Admired Companies for eight consecutive years, works with businesses in nearly 90 countries by providing actionable, objective insight to executives and their teams. When the new-to-role Chief Revenue Officer (CRO) at software development company 3Pillar Global ran into a leadership challenge, she turned to Gartner for support. Through research, case studies, and showcasing best practices, Gartner empowered the CRO to restructure her sales team to drive strategic growth. As a result, 3Pillar Global produced a 20 percent revenue increase yearly.
Strong leadership makes a marked difference in educational settings as well. Research shows that:
Students led by the top 25 percent of school leaders receive the equivalent of three extra months of learning every year compared to those led by the bottom 25 percent.
A one-point increase in scoring on school management practices correlates to a ten percent increase in student performance.
Effective leadership accounts for approximately 25 percent of the variation in student achievement.
Leadership critically matters in various settings, from the largest corporations to the smallest elementary schools. While there are many leadership styles that leaders can draw upon, two of the primary leadership styles are transactional leadership and transformational leadership. 
Complete The Form to Access My EdD Online Program Guide
What Is Transactional Leadership?
Transactional leadership is a style of management based on goals, rewards, and exchanges. In a transactional leadership environment, managers incentivize employees via rewards, perks, negative consequences, checks, and balances to achieve optimal outcomes. Transactional leaders tend to be highly structured, are oriented toward high levels of supervision, and prioritize orderly processes. 
Transactional leadership can be useful in industries such as retail, sales, and food service. McDonald's, the largest fast-food chain in the world, is hailed as a beacon of the benefits of transactional leadership. The company runs on a clearly defined reward and punishment system that motivates employees to reach set outcomes. 
In education, transactional leadership shows up in performance standards such as grading scales and attendance policies. Athletic participation hinging on academic performance is another example of a transactional leadership approach in education.
What Is Transformational Leadership?
Transformational leadership is a management philosophy that encourages employees to innovate and enact positive change. The transformational leader prioritizes inspirational motivation, collaboration, and supporting each employee's ability to participate in decision-making and problem-solving. By casting a compelling vision, communicating effectively, and cultivating the potential in each individual, transformational leaders foster future success for organizations and systems. 
Transformational leadership is made up of four key elements:
Idealized influence: The leader serves as a role model who acts in ways employees desire to emulate.
Inspirational motivation: The leader communicates a compelling vision that sparks a sense of purpose and belonging in their employees or followers, urging them to exceed expectations.
Individualized consideration: The leader pays attention to the needs of each employee, providing mentorship, opportunities for honest communication, and positive feedback on unique contributions.
Intellectual stimulation: The leader encourages followers to think critically, take risks, and conceive new ideas.
Examples of Transformational leadership can be found in billion-dollar enterprises, rural schools, and everywhere in between. Amancia Ortega, the visionary leader of fashion retailer firm Inditex, which owns brands such as Zara and Stradivarius, embodied transformational leadership when he innovated a new model of supply chain called the Agile Supply Chain. Rather than relying on the existing systems for product development and volume prediction, Ortega inspired his team to devise new solutions that would lead to organizational success. 
Despite being an introverted person sometimes labeled "reclusive" and "reserved," Ortega prioritized connection with his employees by eating lunch in the company cafeteria, spending time on the factory floor, and directing his firm alongside colleagues in a Zara Woman design room. This continual collaboration with employees has led to remarkable success for the company.
In the education space, there are many transformational leadership examples that show the benefits of the leadership style. At Ramapo Indian Hills School District in New Jersey, new superintendent Dr. Rui Dionisio knew it was time for a new strategic plan. Rather than devising one himself or with a small group of education leaders, Dionisio gathered insights from over 400 faculty and staff members, 2,000 students, and 40,000 community members. Giving equal weight to all feedback, Dionisio led the strategic planning process to develop a plan that truly addressed the needs and desires of his community. 
Transactional vs. Transformational Leadership: Pros and Cons
Each leadership style has pros and cons, which are useful in determining which style best applies to a given situation. James MacGregor Burns, who is credited with developing transformational leadership theory, explained in his 1978 book Leadership that the transactional leader approaches "followers with an eye to exchanging one thing for another" while the transformational leader looks "for potential motives in followers, seeks to satisfy higher needs, and engages the full person of the follower." 
Consider the upsides and downsides of both transactional leadership and transformational leadership. 
Transactional Leadership: Pros and Cons
Transactional leadership can be useful for achieving goals and generating positive outcomes especially in the sales industry. The pros of transactional leadership include:
Clearly defined metrics for success, employee expectations, and job roles
Concrete standards that can enable cost-effective decision-making
Employees who like to achieve goals and perform well are incentivized to do so
While there are upsides to the transactional leadership style, it also has some notable downsides. The cons of transactional leadership include:
Limited potential for collaboration among team members
Reduced innovation, creativity, and long-term thinking 
Overemphasis on short-term goals rather than long-term organizational culture and success
Higher employee turnover
Heightened possibilities for conflict between employee and employee as feedback is limited to negative responses
Reduced team morale
Increased stress on the leader and frustration in employees as every task must be approved
Transactional leadership can also undervalue the role of work-life balance. It can also be hard to implement transactional leadership among a remote workforce, as the style largely depends on close monitoring of employees. 
Transformational Leadership: Pros and Cons
Since transformational leadership prioritizes leading by example and aligning each employee's skillset with the organization's objectives, it can succeed in various settings. The pros of transformational leadership include:
Improved employee motivation and loyalty
A high level of workplace integrity, honesty, and equal treatment
Encouragement of professional development, passion, and personal contributions
Decreased turnover, transitional stress, and conflict
Heightened modes and methods of positive, open communication
The potential downsides to transformational leadership stem from the leadership style's emphasis on ongoing collaboration, including:
The prioritization of long-term goals over short-term goals
Increased potential for burnout as leaders and employees engage in continuous communication
Slower decision-making as choices require input from all members of a team
While these cons are important, they can be addressed with relative ease. As Burns wrote, "The ultimate test of practical leadership is the realization of intended, real change that meets people's enduring needs." 
The transformational leader can "meet people's enduring needs" by arranging meetings with individual team members to determine short-term goals in service of long-term objectives. Additionally, transformational leaders can embody the work-life balance they want to see their employees emulate and set boundaries around communication that keep workers from feeling like they are always on the clock. 
How Do You Become a More Effective Leader? 
Do you want to inspire and motivate people to reach their full potential and create positive workplace change? Are you passionate about clear communication and productive collaboration? Spalding University's online Doctorate of Education in Leadership may be your next step.
The EdD: Leadership program was designed for working professionals and can be completed in two years. A mission-focused degree program that inspires current and future leaders to innovate and create sustainable change, the EdD: Leadership program equips students with transformational leadership skills. Focused on modern-day issues, team building, and systems thinking, the leadership program themes include global and cultural perspectives, organizational innovation and change, and research-informed decision-making. 
Spalding supports you wherever you are in your leadership journey. Connect with an enrollment advisor to take the next step.